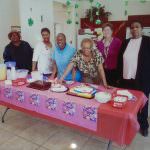 At Whispering Palms
On the calendar for Spring, a March Popcorn/Movie night, as well as a Puzzle Party and Board Games Tuesday Social. Food deliveries continue every Friday, and a St. Patrick's Day pot luck luncheon was held.
At McKnight Senior Village
Residents loved the Valentine's Day Potluck, everyone bringing their favorite specialties to share. The Words on Wheels is on the calendar, a wonderful program offered though the Clark County Public Library, featuring the delivery of books, periodicals, DVD's, and audio CD's to the property. Also, McKnight offers Department Store on Wheels, a mobile store that features new discounted clothing and accessories for sale, delivered to your door.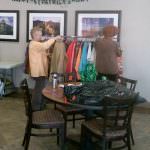 At Santa Barbara Palms
Residents are enjoying line dancing every Thursday evening from 7-9pm, a fun social and fitness opportunity. Also, on the calendar is a men's fitness class every Monday, Wednesday and Friday nights, and for the ladies, the Red Hat Club meets every Saturday afternoon.
At Sonoma Palms
As well as monthly health screenings, Sonoma is offering twice-monthly haircuts, and visits from a beautician, helping residents look and feel their best.
Also twice-weekly, Bid Whiz, a form of whist card game is offered in the evening for those who wish to participate.
And for the good of the soul, a weekly faith group meets on Tuesday mornings.
At Sunrise Senior Village
With Spring's arrival, Silver State Housing coordinated a St. Patrick's Day potluck luncheon, enjoyed by all in attendance. March Babies was celebrated mid-month with cake for all residents born in March. This is fast becoming a tradition each month, and a chance to meet new neighbors and mingle with old friends.
Of course, weekly food deliveries continue, as well as the Silver Star Bus for outings and appointments. Pokeno is on the calendar twice monthly, and residents are enjoying the Card Players once a month.
Free cell phones have been distributed to qualifying residents at all the properties, as well as SNAP benefits. SNAP is the Supplemental Nutrition Assistance Program administered through the State that increases food purchasing power for those in need. Also, all the properties continue to have their resident meetings each month, an essential way to be proactive where problems are concerned, and where residents help to shape their community. We encourage their participation in making the properties their home!